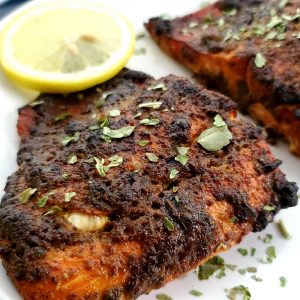 Air Fryer Salmon / Grilled Salmon
Here is the yummiest grilled or air fryer Salmon recipe. As is made in the air fryer it hasn't become dry but it is juicy and healthy. However, if you do not have an air fryer, you just need to follow the steps and grill it in a grilling pan or in an oven.
But the time taken in an oven would differ. And also if your using a grilling pan, chances are there that the skin of the salmon sticks to the pan making it hard for you to take. Hence, the pan should be well seasoned, apply some oil on it before placing the marinated fish on it, leave it on low flame until the skin loosens it out of the pan and then flip to cook the other side of the fish.
Salmon is one of the healthiest fish. It is rich in omega3 fatty acids that are of much importance to our body. But you could use the same marinade for any other fish as well.
Equipment
Air fyer/ Grill pan / Oven
Ingredients
½

Kg

Salmon Fillets

Cut into two

½

tsp

Ginger Powder/ paste

1

tsp

Garlic powder/paste

1

tsp

Pepper powder

1

tsp

Paprika

or you could use Chili powder

2

tbsp

Lemon Juice

1

tsp

Basil leaves

Salt to taste

2

tbsp

Olive oil
Instructions
Into a small bowl, drop all the ingredients except the fish and make into a marinade

Take the salmon fillets and apply the marinade on the fish, on all its sides

Then refrigerate the marinated fish for 1 hour or at least 30 minutes

Preheat the air fryer to 400 degrees Fahrenheit

Spray the basket of the air fryer with oil

Then place the fish into the basket

And then insert the basket back into the fryer and air fry it for 15mins

The amount of time required vary depending on the size of the basket, you would need to check after 15mins that should not get overcooked.

Then after that, take it out and gently remove the grilled fish from the basket

Sprinkle some lemon juice on top of the fish and serve hot.
Video