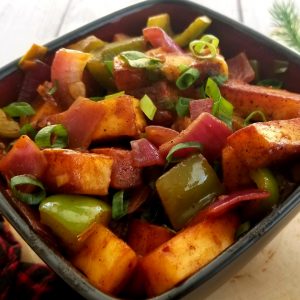 Chili Paneer
Here comes an easy recipe for Chili Paneer. The paneer slices are slightly fried and added to the yummy sauce with sauteed veggies. It is an easy recipe to make for dinner. It would be best when served hot with roti or fried rice. There are certain recipes that are best when taken warm, this is one among them.
If you do not want to fry the paneer, it's totally fine to skip the stage. By not frying, the paneer slices would be soft, so while stirring it may break into pieces. Hence make sure to gently stir after adding it to the sauce.
Also I have not all-purpose flour and corn flour for frying, because paneer itself has that chewy texture when fried like that with few seasonings will give us a very good taste.
So let's see how it is done.
Any doubts come around while making, you just need to watch the making video attached.
Ingredients
For frying
8

oz

Paneer

1 inch Cubed

½

tsp

Pepper powder

1

tsp

Chili powder

Salt to taste

2

tbsp

Water

Vegetable Oil for frying
Sauce Mix
1½

tbsp

Soya Sauce

½

tbsp

Chili sauce

2

tbsp

Tomato sauce

¼

cup

Corn starch slurry

2 tsp Corn starch + 1/4 cup water
For the gravy
1

tbsp

Vegetable Oil

½

tbsp

Sesame oil

1

tbsp

Garlic

minced

2 or 3

Green Chilies

chopped

1

tsp

Ginger

minced

¼

cup

Green onions

chops

1

small

Onion

cubed

1/2

cup

Capsicum

cubed

1

tsp

Pepper powder

1½

tsp

Chili powder

¼

cup

Water

Salt to taste

½

tsp

Sugar

optional
Instructions
Frying the Paneer
Into a bowl, drop the dry ingredients under the "for frying " section

Add water and mix well into a slighlt paste form

Then put the cubed paneer pieces and stir well

Then into a pan kept on medium flame, pour vegetable oil for frying

Once the oil is hot, put the spiced paneer pieces and fry in it different batches

Just 2 mins on each side of the paneer and do not over fry it as it would make the paneer hard

After frying keep it aside
Sauces mix
Into another bowl, pour all the sauces and the corn starch slurry

Mix well and keep it aside
Making Chili Paneer
Into a pan kept on medium flame, pour a vegetable oil and sesame oil

Once oil turns hot, put garlic, green chilies and ginger and stir until it turns slightly brown

Then add the green onions and stir for 2 mins

Add the chili powder and pepper powder and stir for 2 mins

Add to it the cubed onions and capsicum and stir well until they soften

To it add the sauce mix along with 1/4 cup of water

Stir well and let the gravy boil

As it boils, the gravy start to thicken

Then add the fried paneer and stir well that everything is mixed

Add salt to taste, sugar to neutralize the spiciness and stir well

Stir everything for 5 mins

Garnish with more green onions

Serve hot with Fried rice or chapathi
Video