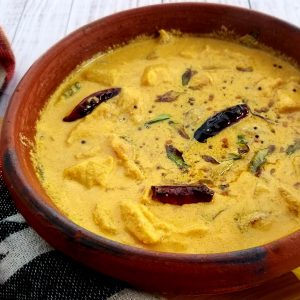 Mango Fish Curry
Mango Fish Curry – how to make the yummiest mango fish curry.
Usually, the mango fish curry is made with coconut milk, but here I have used blended grated coconut with few spices. I have used Tilapia, but you could use any fish available in this curry.
Read below and you would get to know how each of its ingredients play important role in our health.
Mangoes which are seasonal now are rich in nutrients and antioxidants. They are a must ingredient for our wholesome health and immunity.
Tilapia is also another main ingredient in this recipe which is rich in nutrients like omega-3 fatty acids and protein. It is said that we need to have tilapia or any other fish at least twice a week to add the omega-3 fatty acids into our diet.
Coconut either in grated, or pieces or milk or oil form as we know is a must ingredient in many of the Kerala recipes and is rich in proteins, minerals. A rich source of manganese is necessary for bone health, and metabolism of carbohydrates and cholesterol and hence it plays a very important role in weight loss.
When all these yummy nutritional ingredients combine together to form a yummy curry, why not try this with hot steaming rice to have a complete meal.
Ingredients
500

gms

Fish

Cut into medium size pieces

1

Big

Raw mango

cut into 2 inch pieces

1

tsp

Chili powder

2

tbsp

Coriander powder

1

tsp

Turmeric powder

1

cup

Grated coconut

1

tbsp

Coconut oil

1

cup

Pearl onions

chopped

1

tbsp

Ginger

chopped

½

tbsp

Garlic

minced

4 or 5

Green chilies

cut into halves

1

small piece

Brindle berry

1

cup

Water

Salt to taste

Curry leaves
For Seasoning
Coconut oil

Mustard seeds

Fenugreek seeds

Dried red chilies

Curry leaves
Instructions
Into a pan kept on low flame, drop the chili powder and coriander powder

Stir for 4 mins and keep it aside

Into a mixie jar, drop the grated coconut, and roasted powders that are kept aside

Add ¼cup of water, or enough water to blend everything into a fine paste

Once blended, keep it aside.

Into another pan or claypot, pour 1 tbsp of Coconut oil and heat it

Drop the pearl onions, green chilies, ginger and garlic and stir well for 3-4 mins

After that add the cut raw mangoes and stir for a few mins

Add salt and turmeric powder and stir well

Add the brindle berry ( small piece), only if the mangoes are not sour.

Add ¾ cup of water and stir

Close and cook for 15 mins or until the mangoes are half done

Once 15 mins are over, add the fish pieces to it and gently stir

Add a little water if needed

Close and cook for 20 mins or until the fish is cooked

After that add the blended coconut and gently mix without breaking the fish

If there is not enough gravy, you could pour a little water into the mixie jar and wash off the blended coconut and pour into the curry

Gently stir and let it boil for 5 mins

After 5 mins, take it off the stove and keep it aside

Place another pan on the stove with medium flame, pour 1 tbsp of coconut oil

Add mustard seeds, fenugreek seeds(optional), dried red chilies, and curry leaves, stir for 1 min

Once fried, pour the seasonings into the curry that is kept aside and gently stir

Yummy Mango Fish Curry is ready!
Video