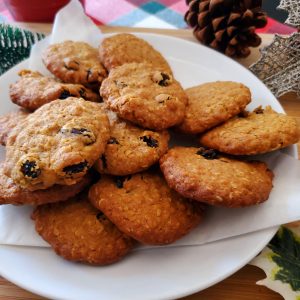 BEST OATMEAL RAISIN COOKIES
Have you ever wondered how to make yummy oatmeal raisin cookies just like we get in the store? Here is the recipe for that delicious cookies. I must say they are tastier than the store-bought ones and would be the best cookies you would ever eat.
Having little ones around it is a must to have some cookies in my cookie jar. And I prefer to make it myself than relying on store-bought ones. Because as we know they definitely add all those preservatives which are not good for any of us regardless of age. Especially when we have a kid who is allergic to almost everyting, we should be careful of what we buy for them. My older one has eczema, and we are very cautious of what goes into her just to avoid any kind of flare-up.
These oatmeal cookies are really tasty with a dash of spices and made with whole wheat flour instead of all-purpose flour making it a healthier version of the cookies. If you like you can add chocolate chips instead of raisins, but again raisins are the right choice if you are trying for healthy cookies. With these many quantities of ingredients, I made 36 cookies, they were medium-sized ones. So if you want more, you just need to double up the measure.
Ingredients
1

cup

Whole wheat flour / Atta

sifted

1

cup

Rolled Oats

6

tbsp

Black Raisins

1

tsp

Salt

½

tsp

Baking Soda

½

cup

Unsalted Butter

softened (113 gms)

1

cup

Brown Sugar

1

Large egg

1½

tsp

Vanilla extract

¾

tsp

Cinnamon powder

¼

tsp

Clove powder
Instructions
Preheat the oven to 180°Celsius or 356° Fahrenheit.

Into a bowl, take whole wheat flour, salt and baking soda and mix well and keep aside

Into another clean and dry bowl, drop the softened unsalted butter, and beat until creamy with an electric hand mixer

To it add the brown sugar and continue beating until both are combined well

Once mixed, add the egg and the vanilla extract and mix for 2 mins or until well mixed

Add the dry ingredient (whole wheat flour, salt, and baking soda) into it.

Then with the mixer mix until everything combined.

Once combined add the cinnamon powder and clove powder

Again mix for a minute. After that, keep the mixer aside.

Drop in the rolled oats to it and using a spatula mix it, the dough will be sticky.

After mixing, add the black raisins and mix well

Using an ice cream scoop spoon take 1 tbsp of the dough, roll it into small balls and place it on a cookie lined with parchment paper

The balls should be placed 1 inch apart

Once the dough balls are placed on the sheet, with the tip of the finger, dab the dough just to flatten it a little.

After placing the cookie dough on the sheet, it is time to bake

Bake the cookies in the preheated oven for 12-14 mins or until you see golden brown edges

That's it. Yummy Oatmeal Raisin Cookies are ready
Video
Notes
Hope you like the recipe for the best oatmeal raisin cookies. Let me know how much you liked it or if you have made any changes so I could try that as well. 
Love, 
TheLemonGinger.
~~~~~~~~~~~~~~~~~~~~~~~~~~~~~~~
FOLLOW US ON SOCIAL MEDIA:
~~~~~~~~~~~~~~~~~~~~~~~~~~~~~~~
Youtube Subscribe: https://youtube.com/c/thelemonginger
Instagram: https://instagram.com/thelemonginger
Twitter: https://twitter.com/TheLemonGinger
Facebook Page:https://www.facebook.com/thelemonginger/