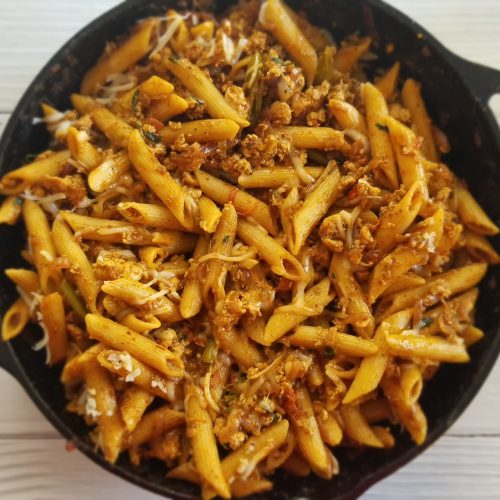 Chicken Pasta – Indian Style
Want to try Chicken Pasta, but do not have all the ingredients that the Italian Pasta recipe calls for? Try this recipe, it is with Indian masalas, easily available anywhere around us.
Ingredients
350

gms

Penne Pasta

Cooked in water and salt (as specified by the brand you are using)
For preparing the Chicken
300

gms

Boneless Chicken

ground the pieces in a mixie or food processor

1

tbsp

Butter

unsalted or salted

1

tbsp

Olive oil

2

tsp

Garlic

chopped

2

tsp

Chili flakes

2

tsp

Crushed Black Pepper

1

tsp

Italian Seasonings

optional

Salt as per taste
For the sauce
1

tbsp

Butter

1

tbsp

Olive oil

1

tsp

Garlic

chopped

1

tsp

Ginger

chopped

2

Green Chilies

slit into halves

1

cup

Onion

chopped

1

cup

Tomato

Chopped

1/4

cup

Cilantro

chopped

1/2

cup

Curd

(you can use cream instead)

1

tsp

Pepper powder

2

tsp

Kashmiri Chili powder

1/2

tsp

Garam masala

Salt to taste

1/2

cup

Water
For final mixing
1

cup

Grated Cheese

(or more as you prefer)
Instructions
Preparing Chicken
To a skillet, drop the butter and olive oil

Once the oil gets hot, put the garlic, stir well until half done

To it add, the chili flakes and crushed black pepper

Then drop the ground chicken and stir well until everything is combined

At this point add the Italian seasonings and salt

Stir intermittently and cook for 15mins until the chicken is cooked well

Once the chicken is cooked, move it to another bowl
Preparing the sauce for pasta
To the same skillet, drop the butter and olive oil

Put garlic and ginger, and green chilies, stir until half done

Then add the onion, stir until sauteed.

Once well sauteed, add the pepper powder, kashmiri chilli powder, and garam masala

Stir for 2minutes until the raw smell of the chilli powder fades

Then add the tomato, stir until the tomato gets mushy

Add salt and curd (if you want, you can substitute curd with cream, to get a creamy pasta)

Then Add water, stir and let it boil
Mixing the pasta
Once the sauce boil, add the cooked pasta and chicken

Stir well and cook for 5minutes more

Check if salt is needed, if so, add a little more

Then to it add the cheese and stir everything well

Yummy Chicken Pasta ready!!
Video
Notes
Many of my friends always ask me to put a pasta recipe in Indian style because many of the recipes have some ingredients which are not available everywhere in India except in cities and towns. It is when I thought to make a recipe which is completely Indian and as expected it turned out to be awesome taste. My girls loved it. 
When you add the spices, always add it according to your taste. 
Hope you would enjoy the Chicken Pasta – Indian style
Thank you so much. 
Lots of Love,
TheLemonGinger
~~~~~~~~~~~~~~~~~~~~~~~~~~~~~~~
#thelemonginger #chickenpasta #indianstylepasta
~~~~~~~~~~~~~~~~~~~~~~~~~~~~~~~
Visit my social media pages to follow me
Youtube Subscribe : Subscribe my channel: https://youtube.com/c/thelemonginger
Instagram: Follow me on Instagram: https://instagram.com/thelemonginger
Twitter: Follow me on twitter: https://twitter.com/TheLemonGinger
Facebook Page: Facebook page: https://www.facebook.com/thelemonginger/