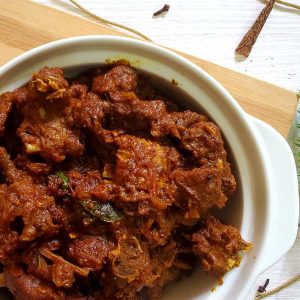 Mutton Roast
Nothing else tastes like yummy mutton recipes. Mutton recipes will always taste better than any other meat recipes. It could be my own perspective. But for me and my family, it is just awesome. for any special occasions, I make sure there is at least one mutton recipe either mutton chops, or mutton roast or fry or 'the mutton biryani'.
Recently, I have had a take-out from a nearby restaurant. We got beef roast and it was very tasty to have with Kerala Porotta. So while I was having it, I was trying to figure out the ingredients, I asked myself why couldn't I try this with mutton. And it is when I thought of making a mutton roast. And it came out to be superb. As always, the decisions taken abruptly are the best ones than those with too much planning. I have had help from my mother-in-law, as when it comes to traditional recipes, they would know better the correct amount of each ingredient to put in the recipe.
So lets come to the point. How to make the Mutton Roast? It is a simple recipe, not too much complications. Cook the Mutton in the pressure cooker for around 6-8 whistles or until the mutton is cooked well. Once cooked, keep it aside with the stock. In another pan, the ginger, garlic, shallots and onions are fried, put the masala or curry powders and then add the chopped tomatoes to balance out the spiciness, also it gives a touch of tanginess. Then once all these are cooked, add the cooked mutton and stock and stir well until the gravy is completely reduced. Add a generous amount of curry leaves to increase the flavor and add a nadan (traditional) touch to the recipe. And finally, add a spoon of coconut oil and sprinkle a spoon of pepper powder. And stir well and serve hot with Porotta, chapati, appam or even rice.
Ingredients
For Cooking the Mutton
1

kg

Mutton

Curry piece size

1

tsp

Turmeric powder

½

Garam masala

¾

cup

Water

Salt to taste
For Making Graving
3 + 1

tbsp

Coconut oil

1

tsp

Mustard seeds

1

tbsp

Garlic

chopped

1½

tbsp

Ginger

chopped

10

Shallots

chopped

5

big

Onion

chopped

2

medium

Tomato

chopped

½

tsp

Turmeric powder

½

tbsp

Coriander Powder

1

tbsp

Chili powder

½

tbsp

Kashmiri Chilli powder

1½

tsp

Garam masala

1 + 1

tsp

Pepper powder

Salt to taste

Curry leaves

(3-4 twigs) a generous amount
Instructions
Cooking the Mutton
Into a pressure cooker, put the mutton pieces, turmeric powder, garam masala, water and salt to taste

Close and pressure cook for 6-8 whistles or until the mutton is cooked
Making gravy
Into a kadai kept on medium flame, pour coconut oil, once the oil is heated, put the mustard seeds

Add garlic and ginger, and stir for 3 mins

Add the chopped shallots and onion and few curry leaves, stir until the onions turn soft

Add turmeric powder, coriander powder, chili powder, kashmiri chili powder, garam masala, pepper powder and salt.

Stir until the raw smell of the powders fade or oil starts appearing or when the onion starts looking shiny or glossy.

Then add the tomatoes and stir until half done

Once done, add the mutton and the stock

Stir well and cook for 25 mins until the gravy is reduced to half

The cooking time should depend on how well the mutton has been cooked in the cooker and also on the amount of mutton stock.

If you want the mutton to be cooked more, then add the cooking time accordingly.

Keep adding the curry leaves, to add on its flavor

Add 1 tbsp of coconut oil and 1 tsp pepper powder

Stir well once more and serve into another bowl

Yummy mutton roast is ready.
Video