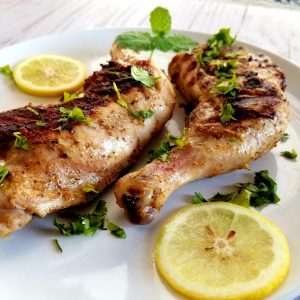 Pan Grilled Chicken
Here we are presenting you the recipe for Pan grilled Chicken with the famous Allspices. The grilled chicken turned out to be so delicious and soft. Try this out, you are definitely going to love this…
Ingredients
4

Chicken legs with thighs

(with no skin)
Making of Spices
1

tbsp

Black Pepper powder

1

tbsp

Chili powder

1

tbsp

Coriander powder

1

tbsp

Nutmeg powder

1

tbsp

Cinnamon powder

1

tbsp

Cardamom powder

1

tbsp

Cloves powder

1

tbsp

Cumin powder
For the marinade
3

tbsp

Curd

1

tbsp

Allspices

2

tbsp

Lemon juice

1

tbsp

Ginger-garlic paste

2

tbsp

Olive oil

1/2

tbsp

Salt

(or as per taste)
Instructions
Preparing the spices
Into a clean bowl, put all the ingredients under "making the spices" section

Mix well and keep it aside

We would need 1tbsp of the mix.

The rest could be transferred to an airtight container and kept in the refrigerator for later use
Preparing the chicken
Take the clean chicken leg pieces, using a knife, make small cuts for the masalas to get in through.
Preparing the Marinade
Into another bowl, pour Curd, Ginger-garlic paste, 1tbsp of allspices (prepared before),olive oil, lemon juice and salt.
Marinating the Chicken
Place the chicken pieces into the marinade, spread it well over the pieces

Once applied well, cover the bowl with a lid

Refrigerate it overnight or 7hrs
Pan Grilling
After refrigerating for that many hours

Take the bowl out of the fridge and keep it outside for an hour or so, just to bring it to room temperature

Then place grill pan on the stove which is on medium flame

Pour olive oil, and spread it over the pan

Then place the chicken pieces 2 at a time or depending on the size of the pan

The flame should be high for the first 5mins

Then reduce the flame to low

Cover and cook for 20minutes

Flip the pieces after 20mins

Again cover and cook for another 20-25mins on low to medium flame

Do the same for the rest of the pieces

Yummy Pan-grilled chicken ready!!!
Video
Notes
The allspices usually have paprika instead of Chili powder and I had paprika here in my shelf but I did use Chili powder because it is more widely available in Indian houses than the paprika. And I don't want my friends not to try this wonderful recipe, just because they do not have or get Paprika. 
Cooking time of the chicken may vary according to the pan used, I have used the cast iron grill, it gets heated up faster than other pans and retains the heat too. So if you are using other pans, you would need to cook for a few more minutes. 
The recipe was a hit here especially for my little girls as it is not that spicy as the one I usually make with Indian masala. It wasn't spicy yet full of flavors. 
Try this out, you would love it..
Lots of Love,
TheLemonGinger
~~~~~~~~~~~~~~~~~~~~~~~~~~~~~~~
#thelemonginger
#pangrilledchicken
#chickenrecipe
~~~~~~~~~~~~~~~~~~~~~~~~~~~~~~~
Visit my social media pages to follow me
Youtube Subscribe : Subscribe my channel:
https://youtube.com/c/thelemonginger
Instagram: Follow me on Instagram:
https://instagram.com/thelemonginger
Twitter: Follow me on twitter:
https://twitter.com/TheLemonGinger
Facebook Page: Facebook page:
https://www.facebook.com/thelemonginger/